Four organizations received grants for tree planting projects and improving regenerative agriculture practices across the United States.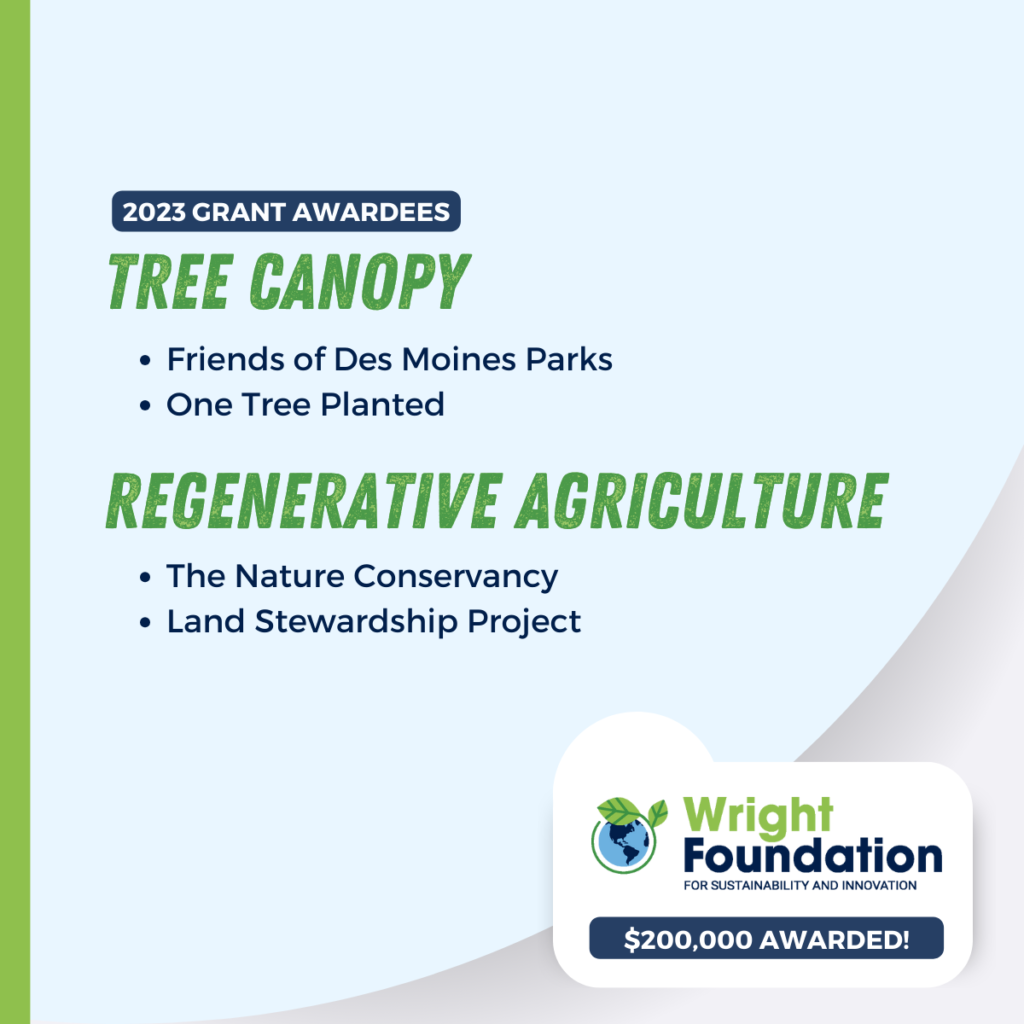 WEST DES MOINES, Iowa – Wright Foundation for Sustainability and Innovation (WFSI) is pleased to announce the grantees for its 2023 grant cycle. WFSI has awarded a total of $200,000 to four organizations.
WFSI sought projects in two primary categories: tree canopy improvements, expanding the criteria to be anywhere in the country, and regenerative agriculture practice adoption in the Midwest. "We could not be more thrilled to support projects that align with our vision to drive real, high-impact change for good," says Scott Packard, WFSI chairman. "The four organizations we selected are restoring natural habitats, improving air quality, supporting soil health, and protecting water."
Friends of Des Moines Parks (Des Moines, Iowa) was awarded $50,000 to plant 128 trees and 5,000 vegetative plugs along the future Carlisle trail. This project will help replace urban tree canopy lost during the 2020 derecho and reduce the urban heat island effect along the trail. The 5,000 vegetative plugs will create a pollinator habitat and support threatened insect species.
One Tree Planted (Shelburne, Vermont) was awarded $50,000 to support the United States Urban Forestry Action Fund. This fund will run 27 urban planting projects across 24 cities in 16 states to address environmental justice, reduce urban heat island effect, and help communities achieve tree equity. These trees will be planted in urban and suburban communities that have low tree canopy cover and are home to a high population of underserved communities.
Land Stewardship Project (Minneapolis, Minnesota) was awarded $50,000 to support its ongoing healthy soil program. As LSP works to support farmers in implementing regenerative practices, the grant will help them build a farmer-to-farmer support network and advance public policy.
The Nature Conservancy (Des Moines, Iowa) was awarded $50,000 to support a sustainable grazing innovation project. This pilot program will test virtual livestock fencing to expand sustainable grazing as a renewable agriculture strategy in Iowa. Virtual fencing technology – where livestock is controlled via GPS collars—is a new, dynamic approach to herd management. 
Since the Foundation's inception in Fall 2020, $525,000 has been awarded to seven organizations that further WFSI's mission through their projects and initiatives.